N​eed new ways to create a buzz and increase excitement at your next event?
As a Touchstone Energy® member, you can reserve a hot and/or cold air balloon.​
Balloon​ Program
Hot Air
The Touchstone Energy hot air balloons are available to Touchstone Energy co-ops for competitive hot air balloon events, balloon festivals, annual meetings and other public events. This program consists of a professionally flown and managed, competitive hot air balloon team sponsored by the Cooperative Balloon Associates LLC, which is composed of a group of Illinois Touchstone Energy cooperatives.
The Touchstone Energy Balloon is available on a first-come, first-served basis through advanced registration. Hot Air Balloons are weather dependent therefore we schedule events in the early or later parts of the day when the winds are the calmest. Customized banners are also available for purchase to co-brand the balloon with your cooperative logo.
Cost and other details Ideas to promote the balloon Hot air balloon fact sheet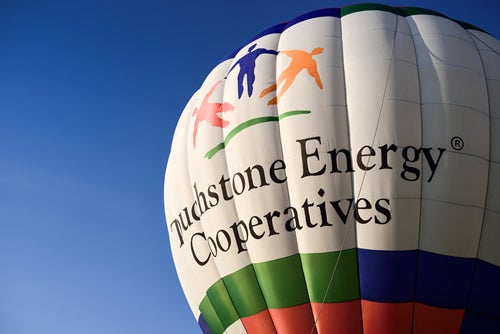 Balloon Program
Cold Air
Hosting an indoor event, or just don't have the space for a hot air balloon? Then turn to our cold air balloon program.
These 10-foot inflatable balloons are impressive replicas of the hot air balloon. They display the Touchstone Energy logo and can be co-branded with a banner. You can rent or purchase these easily inflatable balloons to draw public and media attention wherever it is displayed.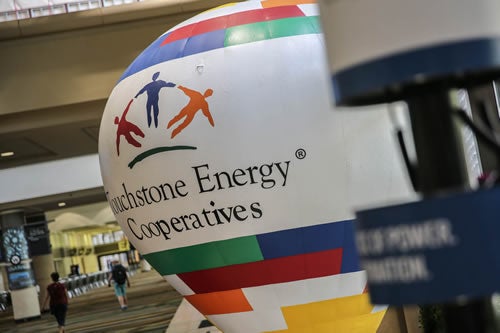 Balloon Program
Remote Control
(Available Soon)
We are piloting new, smaller replicas of the large balloon. As seen in the picture they are smaller than the 75-foot balloon, but still significant in size, standing nearly 30-feet tall. They are controlled by remote function and remain​ tethered to the ground. They will be most useful in scenarios that do not have the ​space for the larger balloon. Pilots from the ​Cooperative Balloon Association are required when hosting this option.
For more information and/or to register online for use of the Touchstone Energy Balloon visit this link or touchstoneenergy.com/memberord​ers.​