Touchstone Energy® Announces 25 Co-ops with
Top 5 ACSI® Scores for Q2 2023 
Touchstone Energy is pleased to recognize 25 member cooperatives that received the top five ACSI® scores for energy utility services among all participating Touchstone Energy cooperatives in the second quarter of 2023.
The top five scores in that period ranged from 88 to 92, which compares favorably with electric cooperatives' annual average score of 74, as reported in the ACSI Energy Utilities Study 2022-2023. Congratulations to the following Touchstone Energy member co-ops for their outstanding scores.
*Scores are included in this quarter's release based on the date the score was reported to Touchstone Energy by ACSI.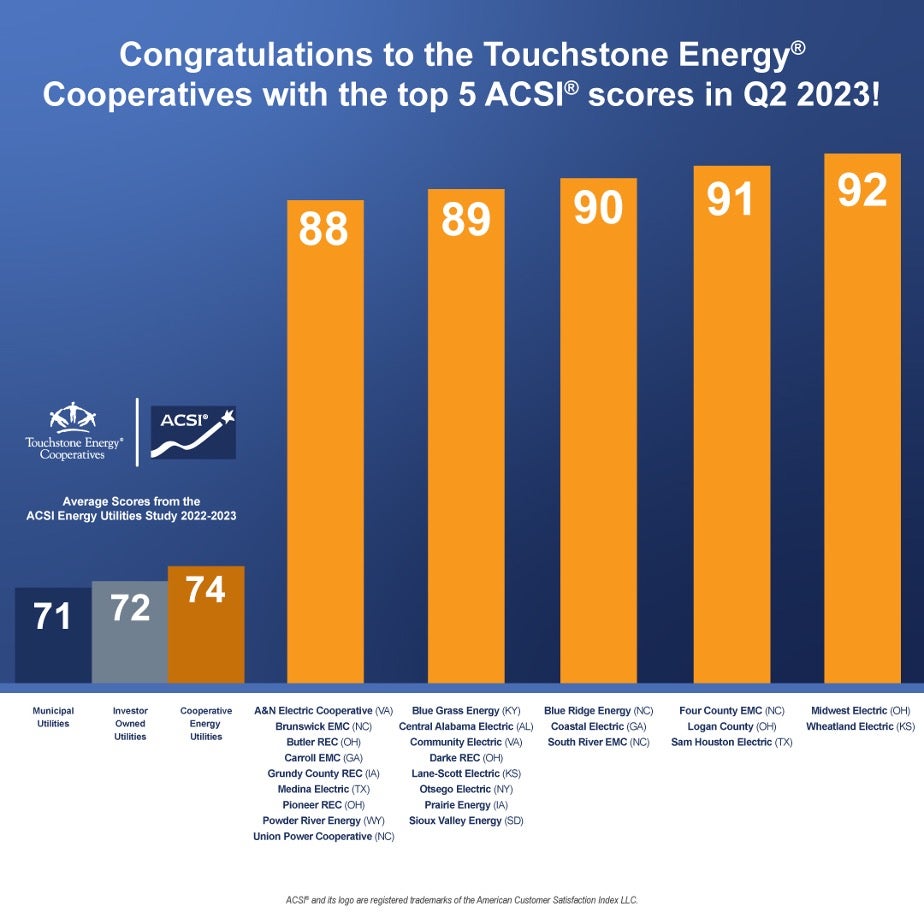 | Touchstone Energy Cooperative | Score |
| --- | --- |
| Midwest Electric, Ohio | 92 |
| Wheatland Electric, Kansas | 92 |
| Four County EMC, North Carolina | 91 |
| Logan County, Ohio | 91 |
| Sam Houston Electric, Texas | 91 |
| Blue Ridge Energy, North Carolina | 90 |
| Coastal Electric Cooperative, Georgia | 90 |
| South River EMC, North Carolina | 90 |
| Blue Grass Energy, Kentucky | 89 |
| Central Alabama Electric Cooperative, Alabama | 89 |
| Community Electric, Virginia | 89 |
| Darke REC, Ohio | 89 |
| Lane-Scott Electric, Kansas | 89 |
| Otsego Electric, New York | 89 |
| Prairie Energy Cooperative, Iowa | 89 |
| Sioux Valley, South Dakota | 89 |
| A&N Electric Cooperative, Virginia | 88 |
| Brunswick EMC, North Carolina | 88 |
| Butler REC, Ohio | 88 |
| Carroll EMC, Georgia | 88 |
| Grundy County, Iowa | 88 |
| Medina Electric, Texas | 88 |
| Pioneer REC, Ohio | 88 |
| Powder River Energy, Wyoming | 88 |
| Union Power Cooperative, North Carolina | 88 |